FTIR gas cell
The author : admin time : 2016-06-14 Click on the number of times :
336
FTIR gas cell   
Custom Gas Cell can manufacture on request
Short Pathlength Gas Cell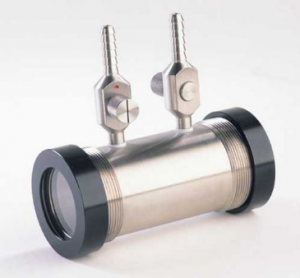 Laser Optex offers a Short Pathlength Gas Cell that is ideal for routine gas and vapour spectroscopic analysis at room temperature, low pressures, and static or flow conditions. The cell has a fixed 10 cm pathlength, and is available in quartz glass and stainless steel. 
This Short Pathlength Gas Cell is supplied with a choice of NaCl, KBr, CaF2, BaF2, or ZnSe infrared transmission windows, and is mounted in an optical spectrometer with a version of 3" by 2" slide mount holder.  Quartz glass and PTFE taps are used on the Quartz glass version of cell, whilst stainless steel and Viton® sealed valves are used on the stainless steel version of cell, to introduce samples to the cell.         
Features and Benefits


Demountable for ease of cleaning and window replacement


Choice of cell material: quartz glassand stainless steel


Choice of window materials


Window diameter: 47mm


Clear aperture: 39mm


Two ports for static or flow experiments


Slide mounted cell holder


Standard Gas Cell
Ordering Information
Short Pathlength Gas Cell
SG
G
G10
0
 – Storm 10cm Quartz glass Gas Cell (windows not included)
SGSS100
– Storm 10cm Stainless Steel Gas Cell (windows not included) 
Cell Mount
SG1001
 – Cell Mount 
Windows for Storm Gas Cells
SG
050
1
 – Pair of NaCl windows
SG
0502 
– Pair of KBr windows
SG
050
3
 – Pair of CaF2 windows
SG
050
4
 – Pair of BaF2 windows
SG
050
5
– Pair of Sapphire windows
SG0506
– Pair of ZnSe windows
Spares and Consumables
SG
05
11
 – Compleate Seal Kit for Quartz glass Gas Cell
SG
05
12
– Compleate Seal Kit for Stainless Steel Gas Cell
SG
05
13
 – Vacuum Valve for Stainless Steel Gas Cell  
Reproduced please specify:Laser Optex Inc. » FTIR gas cell