Sapphire slide& Coverslips
The author : time : 2020-02-24 Click on the number of times :
827
Sapphire slide& Coverslips
100um thickness are available
Sapphire crystal
 is extremely hard and scratch resistant useful for the visible and ir spectrum. Optical sapphire is made to a random orientation or cut to a specified orientation. It has excellent thermal conductivity at low temperatures allowing single crystal sapphire to be used in many diverse fields requiring thermal conduction and heat radiation. Sapphire has high dielectric constant and is resistant to common chemical acids and alkaline. Optical sapphire has no colouration and with a selection of grades of sapphire transmission ranging from 170nm to 6 microns .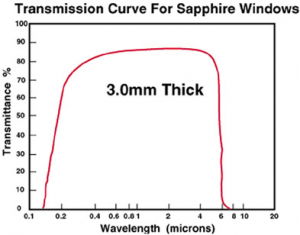 Sapphire slide
Standard grade
Laser Quality
Material
Sapphire single crystal
Orientation
C-cut
C- cut
Diameter Tolerance
+0.0/-0.1mm
Thickness tolerance
±0.05mm
±0.005mm
Clear Aperture
>90%
Parallelism
<3'
10 "
Surface Quality
40-20 scratch and dig
10-5
Wavefront Distortion
1/4 λ per 25mm at 632nm
λ/8 per 25 mm
Standard grade Sapphire slide in stock

 

 

Part No.
Dimension 
mm
Unti price for
(10pcs in one box)
Delivery
time
SAMS1001
10×10×0.25-0.30
USD400.00
4 weeks
SAMS1601
16×16×0.25-0.30
USD400.00
4 weeks
SAMS1901
19×19×0.25-0.30
USD450.00
4 weeks
SAMS2201
22×22×0.25-0.30
USD500.00
4 weeks
SAMS2501
25×25×0.25-0.30
USD550.00
4 weeks
SAMS5501
25×50×0.50
USD800.00
4 weeks
SAMS7623
76.2×25.4×1.0
USD1000.00
4 weeks

 

Note: Other sizes and thickness are available upon request.
Large discount for batch quantity , please contact sales@laseroptex for quotation

 
Sapphire Cover Slides
Sapphire Cover Slips are ultra thin polished Sapphire crystal substrates used for their absolute NIR transparency for medical, scientific and research applications. When viewing the surface a Sapphire cover slip can slow evaporation and compress the most viewed object to protect the microscope lens.
 

Part No.
Size
thickness
Unit price for
10pcs in box
Delivery time
SACSC1001
10 mm
0.20mm
USD400
4 weeks
SACSC1201
12.5 mm
0.20mm
USD400
4 weeks
SACSC1801
18.0 mm
0.50mm
USD400
in stock
SACSC2401
24.5 mm
0.30mm
USD500
in stock
SACSC3501
35mm
0.30mm
USD600
in stock

 
Note: Other custom sizes and thickness are available upon request.
Large discount for batch quantity , please contact sales@laseroptex for quotation
We can accept the credit payment by paypal for small order. The min order must above USD200
 

 
Reproduced please specify:Laser Optex Inc. » Sapphire slide& Coverslips