Hermetic Ladar dome
The author : time : 2016-06-15 Click on the number of times :
129
Hermetic Ladar dome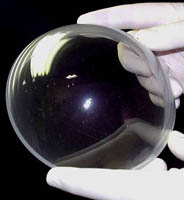 Laser Optex have capability to produce the hermetic ladar dome as customer design.
The ladar dome material include the sapphire, fused silica and spinel ceramic etc.
The metal adapter material include the kovar or  tiantium alloy.
The ladar dome size from 20-120mm.
The hermetic seal type is glod alloy solder.
Leak rate< 1x10-10mbar
support temp : 200 degree or higher   
Reproduced please specify:Laser Optex Inc. » Hermetic Ladar dome